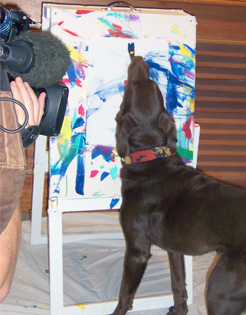 Major creating a Doggie Da Vinci original during filming by French TV - TF1.


Pupper PAWprints for SSD

Our dogs strive very hard to learn their Service and Therapy Dog training but without the support of generous benefactors, the continuation of their schooling and care would be in jeopardy. So to help out, our Doggie Da Vincis have developed an exclusive and world famous line of PAWtographed products for your enjoyment. Each one of a kind item is sure to be an excellent complement to your art collection or your pet's couture. Ranging from handmade designer bandanas to original works of art, your sure to find that perfect gift to treat yourself or a special friend.


You'll find a wide variety of gorgeous works in their muttsterpiece collection such as:


Orginal works and prints of abstract fine art created by the Puppy Picassos, beautiful enough to hang in nationally renowned art galleries.

Notecards of select masterpieces from their painting portfolios.

DVD video of their amazing Service Dog and painting talents.

Personalized PAWtographed apparel to make your own pet pals stand out in a crowd.
Sammy displaying his artistic talents
at the 2007 Celtic Festival.




So please browse through our PAWtographed products and consider a donation level gift that will help our incredibly gifted canines continue with their journeys to bringing joy though their Service Dog and Therapy dog work. With your help, we can make a difference to so many peoples' lives. From all the puppers at Shore Service Dogs, Thank You for your support!